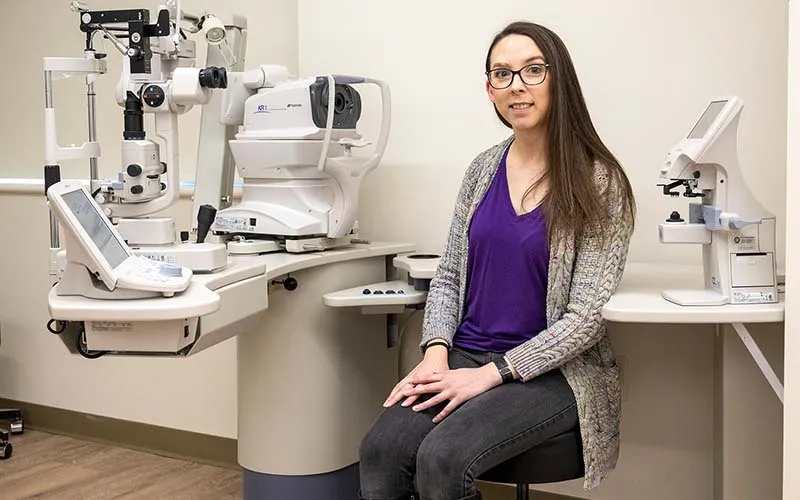 ---
This week, take five minutes with Shelby Stanley, ophthalmic technician program director. Stanley joined ECC one year ago, helping to launch ECC's newest health care program, which was developed in response to regional demand for the position from local health care providers.
Outside of working in health care, Shelby is a huge animal lover and was very close to pursuing zoology as her career. Read more about Shelby's love for animals, her travel adventures, and more!
Where is the best place you've traveled, or where is somewhere you dream of going, and why? I had the unique opportunity to study in Mexico, Ecuador, Peru, and Brazil while in college. I knew over the years I wouldn't be able to remember everything, so I sat down alone for a few minutes at Machu Picchu and committed the view and feeling to memory. I try to recall that feeling when I need a moment of serenity.
What was your first ever job? My first job was at Chesapeake Bagel Bakery in DeKalb. Working with kind people and getting to take home bagels and pastries at the end of the day made it a great first work experience.
Cats, dogs, or house plants? I love animals! I currently live with two cats: Mavis and T'Challa. In the past, I have had birds, geckos, guinea pigs; you name it. It would have been zoology if I hadn't pursued the medical field.
What is your favorite meal to cook or favorite dish to eat out? I enjoy cooking, especially in the winter months. French onion soup on a cold day is one of my favorites.
What's your favorite spot on campus? I love the planted spots on top of Building B. Walking past all the greenery and seeing it change through the seasons makes my day.