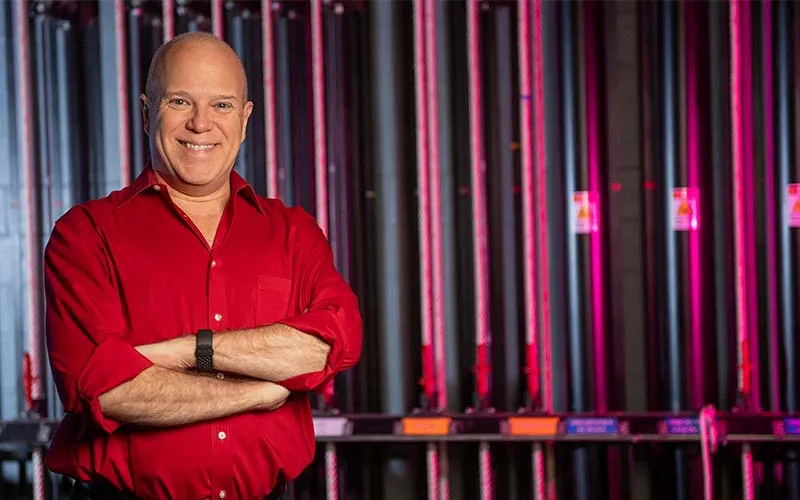 ---
This week the spotlight is on Tommy Hensel, senior director of performing arts. Hensel began at ECC in February 2022 and recently received the Chicago Cabaret Presenter Award at the Chicago Cabaret 2022 Gala. Hensel has worked professionally for over 30 years as a director, actor, and arts presenter.
Take five out of your day to learn more about Hensel's interests and lifestyle outside of his passion for theatre.
If you could instantly be an expert at one thing, what would you choose? For the past several years, I have been studying for my advanced levels of wine certification. I now hold a Level 3 certification in wine from the Wine and Spirit Education Trust (WSET). I am currently studying for my final diploma level. It's a difficult two-year process, and if I could instantly become an expert on wines of the world, I would definitely jump on that. It is tough training. Of course, the need to sample wines in order to understand them – that part isn't so bad.
Where is the best place you've traveled, or where is somewhere you dream of going, and why? My favorite vacation was in February 2018. I spent ten days in Costa Rica at a surfing resort. I have always wanted to try surfing, so I threw caution to the wind and tried it out. My ultimate dream vacations are all about visiting some of the world's great wine regions – particularly South Africa, Australia, and New Zealand.
Cats, dogs, or house plants? House plants, for sure. I have an absurd number of houseplants. I love dogs and cats, but with my theatrical work and travel to various conferences throughout the year, I am not home on a regular schedule. Since I live alone, nobody would take care of the animals in my absence. Also, plants are delightfully low maintenance.
If you could have dinner with anyone, living or dead, who would it be and why? My early career was as director of a theater company that specialized in Shakespeare's works, and those plays have always been my favorite to direct. In the world of Shakespeare scholarship, there has long been a heated argument about whether or not the man called William Shakespeare actually wrote the plays or if someone else (or a group of people) were responsible. The debate gets fairly heated when those of us who are nerdy Shakespeare lovers get together. I would like to have dinner with him both to meet him (that would be amazing) and to have him finally settle that argument one way or the other. FYI – I do have an opinion on the subject if anyone wants to ask me.
What did you want to be when you grew up? Looking back on my childhood, I changed my mind several times. For a while, I was convinced I wanted to be a geologist. For some reason, rocks and minerals fascinated me. I also went through a phase of being absolutely convinced that I wanted to become an astronomer. I nagged my parents unceasingly until they bought me a telescope. How I ended up in music and theater is anyone's guess.