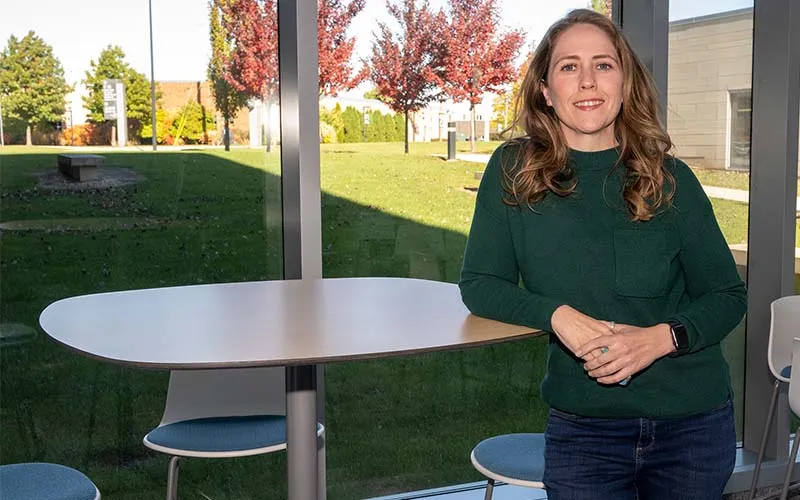 ---
This week, take five with Courtney Hamill, technical enrollment facilitator. Hamill has been working at ECC since 2010, but her first experience with the college was as an ECC student! She attended ECC from 2005 to 2008 and also worked part-time in Advising.
Plus, Hamill is a proud first-gen college student!
Read on to learn something new about your colleague Hamill.
What should your colleagues know about your position at ECC? First Stop is integral to the enrollment process here at ECC. We engage with students daily and provide critical support for issues they encounter with the accessECC platform and student email. Due to the nature of our department, we need to have a solid understanding of many other areas within student services and the college as a whole. We aim to be the friendly, recognizable faces that students know they can come to with questions.
Where is the best place you've traveled, or where is somewhere you dream of going, and why? Travel is a major passion of mine, and I have been lucky to visit some truly beautiful places like Spain, the Czech Republic (where my sister lives), and Thailand. As a dual citizen, I regularly travel to Ireland to spend time with that side of the family, and it is a second home. I'm most excited for my next adventure, where I'll swim with Orcas in the Arctic Circle in Norway. These animals are so majestic, intelligent, and emotional. They live as a family unit (pod) for life, and in the wild, they thrive in ways that are not possible in captivity.

Binge watcher, book club, or both? I come from a family of voracious readers and have more books than space to put them at this point. I enjoy most genres and recommend the stunning memoir "Between Two Kingdoms" by Suleika Jaouad. Film is also a huge passion of mine. I've volunteered with the Chicago International Film Festival and been fortunate enough to see some riveting films, especially foreign features. Subtitles allow you to expand the scope of stories in a beautiful way. Both books and films not only entertain, but they can provoke thought and enhance empathy.
Cats, dogs, or house plants? My rescued German Shepherd, Mirabelle, is the absolute best! Dogs provide such loyal companionship and make life infinitely better. There is a great deal we can learn from animals and rescue pets. They are capable of profound love, loyalty, and resilience.
What's one thing that really makes your day? Interacting with students! I love seeing students whom I've helped and checking in with them. When they seek me out and share how their classes are going or what clubs they've joined, it puts a genuine smile on my face. I want them to have the same wonderful experience I did as a student here at ECC. Getting involved in student life and all the college offers in and outside the classroom was life-changing. I want that for these students too!