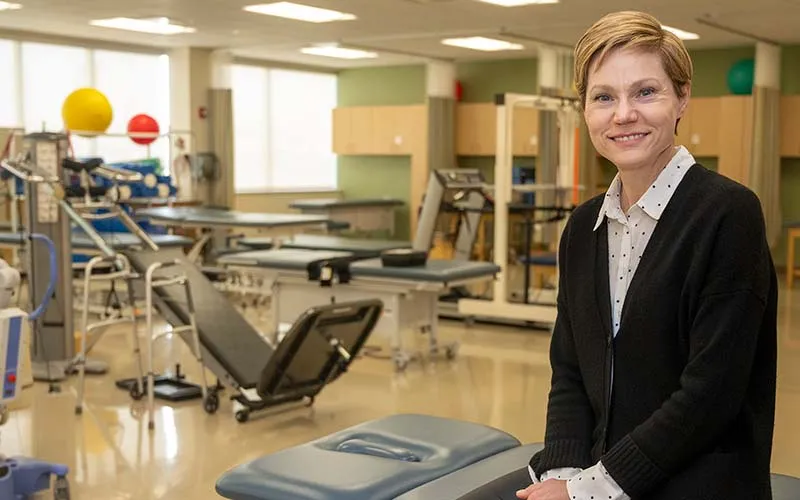 ---
One of ECC's healthcare programs you see our students sporting scrubs for is the Physical Therapist Assistant Program, led by Barbara Ostrowska, PT, DPT, OCS, PTA program director. Ostrowska has been with the ECC since 2019.
Take five and learn more about Ostrowska, her book recommendations, and her role as program director.
What should your colleagues know about your position at ECC? Being a PTA program director and working with future generations of healthcare professionals is extremely rewarding. Watching students progress in the program and become more confident individuals who are interested in helping others is inspiring.
If you could instantly be an expert at one thing, what would you choose? Forensic Medicine.
Binge watcher, book club, or both? I love reading thrillers, mysteries, and stories about medical inventors. I Highly recommend a book by Barbara Goldsmith, Obsessive Genius and King of Hearts: The True Story of the Maverick Who Pioneered Open Heart Surgery: Miller, G. Wayne.
What's one thing that really makes your day? Random acts of kindness, whatever shape or form.
If you could have dinner with anyone, living or dead, who would it be and why? I would love to spend all day with Mary Sklodowska Currie. She was the first woman professor at Sorbonne. Mary's research and discoveries led to the radiotherapy treatment available to cancer patients today. Marie was the first woman to be awarded a Nobel Prize and the first person ever to receive two of them - the Nobel Prize for Physics in 1903 and the Nobel Prize for Chemistry in 1911. According to Albert Einstein, "Marie Curie is, of all celebrated beings, the only one whom fame has not corrupted."