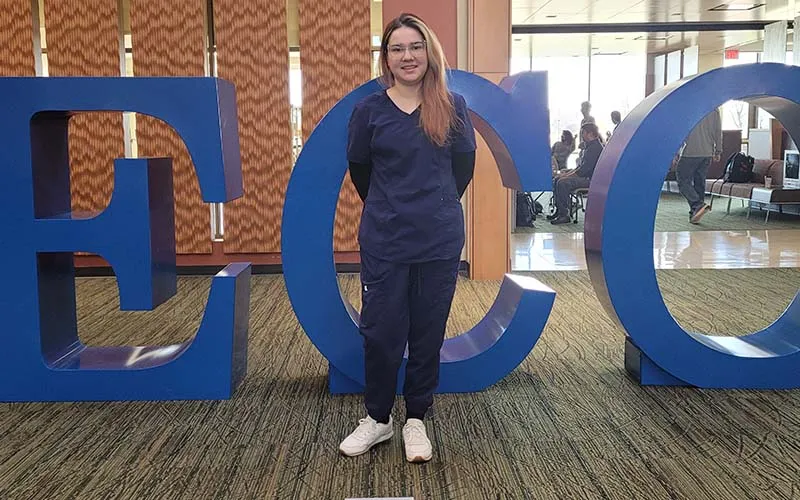 ---
Elgin Community College nursing student Kwanyin Linares is not only an international student, but she is also a first-generation college student. Linares moved to West Dundee from Venezuela five years ago and began English as a Second Language (ESL) courses at ECC while pursuing her Certified Nursing Assistant (CNA) degree. "When I came here, I knew no English at all," said Linares. This past summer, Linares completed her associate in arts and entered her third semester of the nursing program, on track to graduate next summer.
Linares started her journey in a nursing program in her home country. Having always wanted to be a nurse, her family supported her passion and offered help in ways they could so she could focus on her degree. "College was always my main goal. Finish high school, go to college, get a degree, and find a job. Everyone knew I wanted to pursue nursing, so my whole family provided support," she said. Eventually, Linares and one of her brothers decided to leave Venezuela due to political unrest.
Having experienced a nursing education in two different countries, Linares commends ECC's hands-on approach to teaching. "Back home, we wait until the last year to get into the hospital," she said. "Here, we start right away with labs, validations, and clinicals. Also, I've always felt they care that you are doing good. If something goes wrong, you can talk with an advisor or instructor about what is going on and how you can do better."
Feeling support was critical for Linares as she navigated college life and life in the U.S. "After living in Venezuela for 20 years, I had to start all over and hit the reset button," said Linares. Even as the type of person open to learning from each new situation, she faced doubts about her decisions and path forward. "In these situations, I've had people tell me to go for it, and I think, 'Yes! That is what I was waiting for.' I have found this kind of encouragement at ECC."
ECC's International Education Week begins November 14. Come celebrate students like Linares and the cultures and education they bring to the Elgin community – check out all the events at elgin.edu/internationalweek.