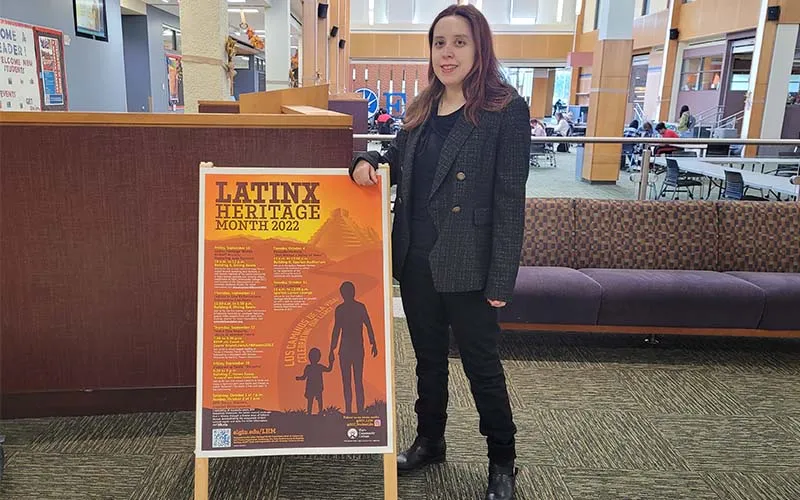 ---
Before Marisol Rivera, PhD, joined ECC in 2019 as a history and political science professor, she taught at Harold Washington in Chicago. "I always wanted to teach at a community college. I was very nervous when transitioning to ECC but was quickly put at ease by the people and environment here," said Rivera.
When Rivera isn't teaching U.S. history and Latin American history at ECC, she is known to be a movie buff, preferring dramas from Korea and Japan. Read on to learn more about Rivera's time so far at ECC and the many languages she wishes to one day learn.
In your words, what do you do at ECC? What do you want others to know about your job? Or what would help others understand your job? I teach U.S. history and Latin American history at ECC. I love teaching history. It can be so much fun. One must stay updated with the latest literature and investigate the best teaching techniques in addition to being in the classroom itself. It involves much more reading than I thought it would be when I was a student in high school, but I like it, and I find it fulfilling.
If you could instantly be an expert in one thing, what would you choose? I would like to know multiple languages. If I had unlimited time, at the very least, I would learn Japanese, Korean, Vietnamese, Urdu, Arabic, Italian, Portuguese and French. I like the idea of communicating with people without the assistance of a translator. To read books and watch various forms of media without it being interpreted. So much can be lost in translation.
What do you enjoy doing outside of work (i.e., hobbies/interests)? I like spending time with family and watching TV shows and movies. I should be more productive, but I like dramas from Korea and Japan when I have the chance. I also enjoy the Marvel. I specifically like shows/movies with happy endings.
You have to wear a t-shirt with just one word on it for an entire year. What would that word be, and why? I hope that I am never in that sort of situation! I like clothing! Having to wear one shirt for the entire year would be difficult. But if I absolutely had to, I think I would have the word "believe." I have a strong faith in God. I know I've seen the work of God in my life. I feel like I've been blessed. Even in times when things are bad, I have to remember that it will eventually pass. I know everyone might not think the same, but it works well for me.
What was your most valuable life lesson? I think one learns various lessons as one gets older. I might learn more as time progresses. The best advice that I was given was to try not to get angry, be mean, or hurt others if you can avoid it. Life is too short, and it takes too much energy. Help others when you can. If you do, the world might not change, but you made a positive impact.
Complete this sentence: "I enjoy working at ECC because … " I enjoy teaching my students. I feel they have so much to contribute to society and the world. I'm happy if I was just a small part of their journey. I also am thankful to have great colleagues that have their doors open for conversation and are genuinely kind people.