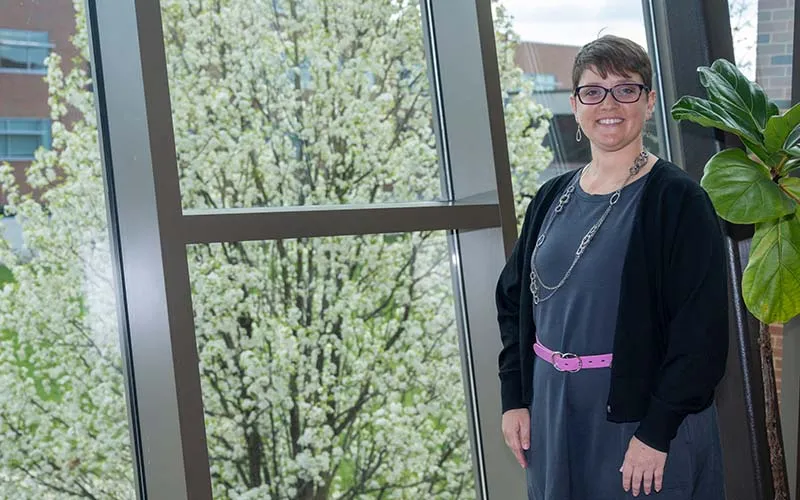 ---
Heather Martin, DeD, assistant dean of the Center for the Enhancement of Teaching, Assessment, and Learning at Elgin Community College, is the 2023 Illinois representative for the Coalition On Adult Basic Education (COABE)'s State Advocate for Adult Education Fellowship (SAAEF). The fellowship aims to build a network of leaders and advocates focused on advancing adult literacy nationwide.
Martin is ECC's third COABE Fellow. Erin Vobornik, English as a second language (ESL) unit adjunct faculty, was chosen in 2021, and Rebecca Eller-Molitas, ESL unit adjunct faculty, was selected in 2022.
"I am honored to be named the State Advocate for Adult Education Fellow," said Martin. "Over the last two years, I've worked closely with the previous two Illinois SAAEF fellows, Vobornik and Eller-Molitas, to reach out to legislators across Illinois. "Through these legislative meetings, we have increased the visibility of adult education and literacy program students and their unique needs. I'm excited to continue their amazing work and integrate more advocacy efforts into our state adult education organization, the Illinois Adult and Continuing Educators Association."
During the part-time, yearlong program, fellows will engage in national and regional policy discussions and join peers dedicated to building advocacy. The COABE State Advocacy Fellowship comprises federal and state-related training sessions focused on building advocacy and leadership skills.
"Faculty, staff, and administrators in our adult education program work tirelessly to advocate for those in our community who may not be able to advocate for themselves," said Marcia Luptak, associate dean of adult education. "Erin, Rebecca, and Heather have stood out over the years as some of the most committed. I have had the pleasure of working with all three as they served as ESL supervisors in our department and brought innovative ideas that helped to improve our program."
COABE's mission is to inspire educators so adults succeed and communities thrive. The coalition exists to provide leadership, communication, professional development, and advocacy for adult education and literacy practitioners to advance quality services for all adult learners. COABE represents the field of 65,000 adult educators and provides various services, including professional development through annual, state-of-the-art national conferences, more than 50 webinars annually, and a peer-reviewed journal. Learn more at COABE.org.
For more information about ECC's adult education programs, visit elgin.edu/adulteducation.