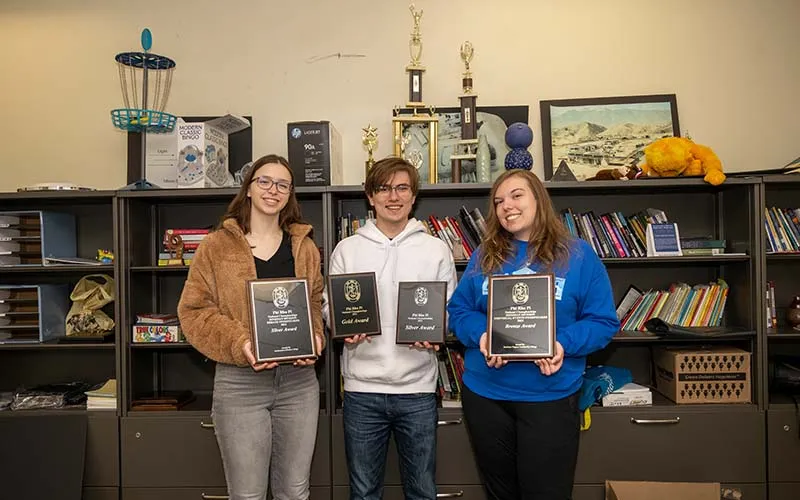 ---
The Elgin Community College Forensics Team showed the nation what they could do during the Phi Rho Pi National Tournament in Bethesda, Maryland. Phi Rho Pi Nationals is the final tournament of their competitive season, with over 50 schools competing.
ECC student team members Aleah Janae (Elgin), Hannah Carpenter (Streamwood), and Damian Hacz (Hampshire) brought home individual and team awards. "I believe that success comes not only from talent but also from focusing on positivity, hard work, and giving time and full effort," said Tim Anderson, ECC professor of communication studies and forensics team coach. "Seeing these students embody these philosophies from the start of the competitive season made working with them an honor."
Anderson also earned an award, receiving the Collie-Taylor Fellowship Award, or the Coaches Fellowship Award. This award recognizes an outstanding coach each year. "Receiving this award is an honor, especially because students of the tournament vote on it," said Anderson. Anderson first became head coach of the ECC forensics team in 2010.
As a team, the group received a team bronze medal in Individual Event Sweepstakes and Overall Sweepstakes. Carpenter received a bronze medal in Speech to Entertain and Prose Interpretation. Janae received a bronze medal in International Public Debate and Extemporaneous Speaking, making her the most decorated competitor in ECC's forensic team's history, with six national medals.
"This team means everything to me. It has been my purpose and sense of community for the past three years. My team is my family," said Janae. "The activity of speech carries so much weight. I think about how many people historically weren't allowed to speak up, and now we participate in these events with a voice that is ours. Everything I've achieved is because of Coach Anderson – from how to write a speech to coaching them to perfection to encouraging me all day during tournaments."
For more information on the ECC Speech team, contact Tim Anderson at 847-214-7275.