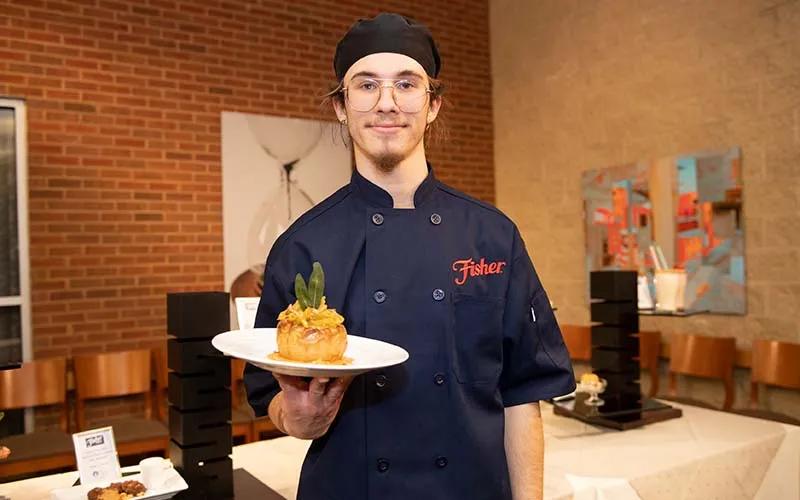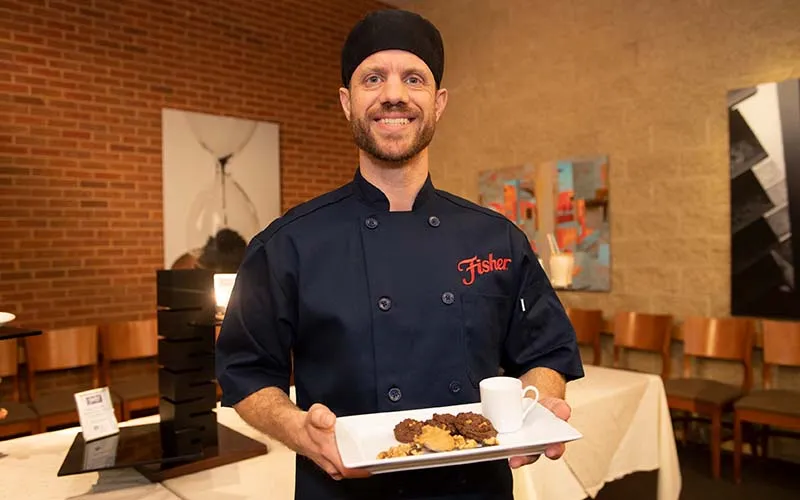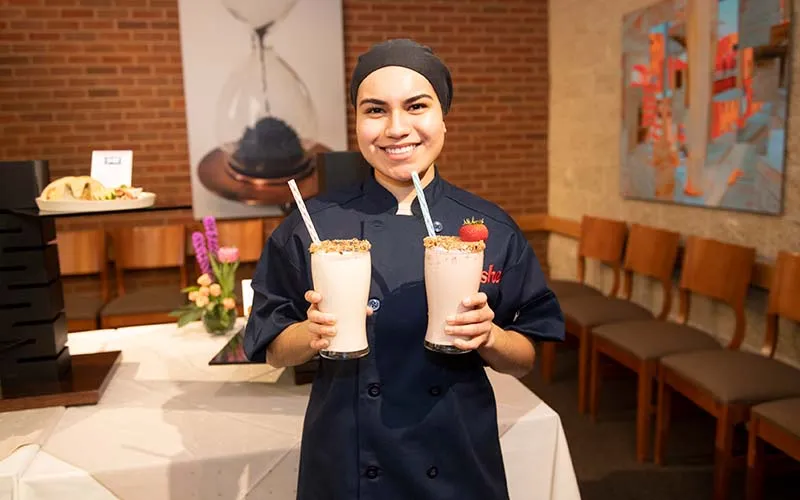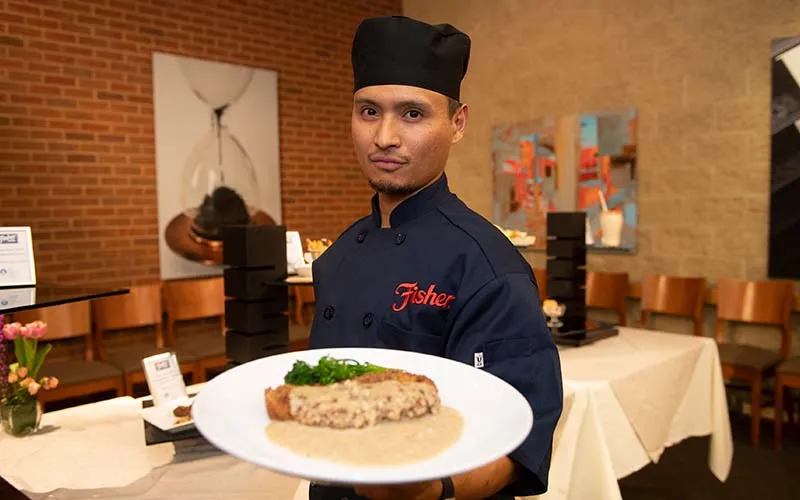 News story previous slide
News story next slide
---
Eight Elgin Community College culinary students competed for scholarship prizes in the annual Fisher Nuts Recipe Competition on Wednesday, April 12, at the college's Spartan Terrace Restaurant.
This is the twelfth year the college has partnered with Fisher Nuts, part of the Elgin-based John B. Sanfilippo and Son, Inc., to offer students additional opportunities to achieve success in their culinary careers.
"The Fisher Nut Recipe contest is a chance for students to showcase their talents and creativity," said Jennifer Loiacano, director of ECC's Spartan Terrace Restaurant. "It's an exciting time as students work to develop an original recipe, then perfect it for the competition. We appreciate the support of John B. Sanfilippo & Son and the opportunity to provide for the students."
Twenty culinary and pastry arts students entered the contest by developing a recipe using products donated by Fisher Nuts. The company's research and development team selects the top eight entries for the final competition. Students prepare their dishes for presentation to the attendees of the company's private in-person evening event; each guest gets to vote for their favorite dish of the evening.
The contest is open to all ECC culinary and pastry arts students. The finalists select a fellow student to serve as their sous chef for the evening.
Winners of a $1,000 scholarship:
First Place: AJ Thomsen, South Elgin - Almond-Oktoberfest Beer Battered Cod.
Second Place: Ben McDonald, Algonquin - Almond Stuffed Butternut Squash with Green Lentil Penne & Crispy Cashew Sage.
Third Place: Brian Hanson, Elgin - Vegan Chocolate-Peanut Butter Cookie with Walnuts.
Fourth Place: (Tie) Daisy Villanueva, Elgin - Agua de Nuez y Agua de Nuez con Fresca y Coco, and Jann Michael Salcedo, Lake in the Hills - Chicken Fried Steak with Almond Gravy.
Winners of a $250 scholarship:
Joscelynn Miller, Elgin - Tequila Lime Cashew Crema on a Vegan Chorizo Taco.
Teresita Camargo, Elgin - Gluten-Free Apple Pecan Upside Down Cake.
Gabriela Vega, Carpentersville - Mocha-Almond Gelato with Peanut Butter Swirl.
For additional information about culinary events at ECC, call 847-214-7382 or visit elgin.edu/spartanterrace.