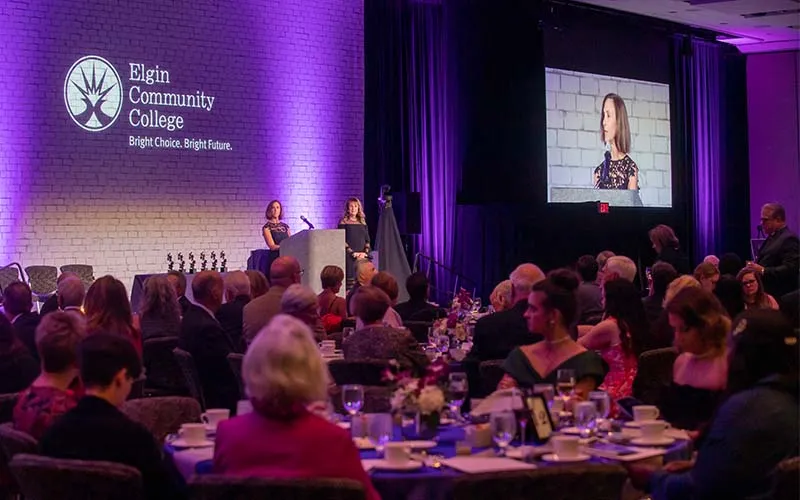 ---
Celebrating the essence of student achievement, the Elgin Community College Foundation's 2022 Gala: Dare to Dream, presented by OTTO, raised more than $110,000 in support of ECC students, including funding for scholarships and mini-grants for innovative faculty projects.
"The Foundation's Dare to Dream Gala celebrated the talent and success that runs through ECC staff and students," said Eric Larson, PhD, chair of the ECC Foundation board. "The event raised a generous amount in funds to continue awarding scholarships that directly impact student success and help flourish futures."
More than 200 guests attended the event, which featured several student performances as well as a showcase of some of the different career pathways that ECC offers. The EYSO/Hanson String Quartet opened the evening reception while guests could visit instructor and student-led demonstrations. Automotive, culinary arts, massage therapy, medical assisting, nursing, ophthalmic technician, and performing arts were all represented. A highlight of the program was a demonstration on making cake pops from culinary arts instructor James Guzzaldo and students Narisha Lara and Tanya Teeter. Attendees left the event with a cake pop and the ability to make them at home.
The event was emceed by Gala Committee Co-Chairs Robin Seigle, foundation board member, and Linda Hefferin, EdD, ECC professor emerita, with guest speakers Eric Larson, PhD, foundation chair, and Corey Dixon, Elgin city councilman. ECC President David Sam, PhD, J.D., LL.M., shared a state of the college update, and the program also included ECC student scholars Laureano Escobar and Sierra Edwards, who both spoke on the personal impact of what it has meant to be a recipient of a Foundation scholarship and a beneficiary of community generosity.
The gala also honored recipients of the 2022 ECC Foundation Awards:
ECC Distinguished Alumni of the Year Award: Kayla Chase, PhD, '06
ECC Esteemed Recent Alumni Award: Jacob Arndt, '13
ECC Friend of Education Award: Tom Roeser, President, OTTO Engineering
Exceptional Friend of the ECC Foundation Award: Jeanne Sigman
ECC President's Lasting Impact Award: John Duffy, ECC Trustee & JPMorgan Chase
Sponsors:
Presenting Sponsor: OTTO Engineering
Premiere sponsors: IHC Construction Companies, LLC; Lundstrom Insurance; Middleby
Dreams Sponsor: Robin and Mark Seigle
Resilience Sponsors: Hoffer Foundation, Shales McNutt Construction
Empowerment Sponsors: Advocate Sherman Hospital, Bear Family Restaurants, Elgin State Bank- a division of Wintrust, KCT Credit Union, Lamp Incorporated, Lauderdale Electric Co.
Achievement Sponsors: BMO Harris Bank, Charles Burnidge, Elgin Trades Council, Caren and Dale Nickelsen, Weatherguard Roofing Company
Milestone Sponsors: Absolute Fire Protection, Inc., Adrienne Butler
The entire gala presentation, photos of the evening, and videos from the award winners are available at elgin.edu/gala.