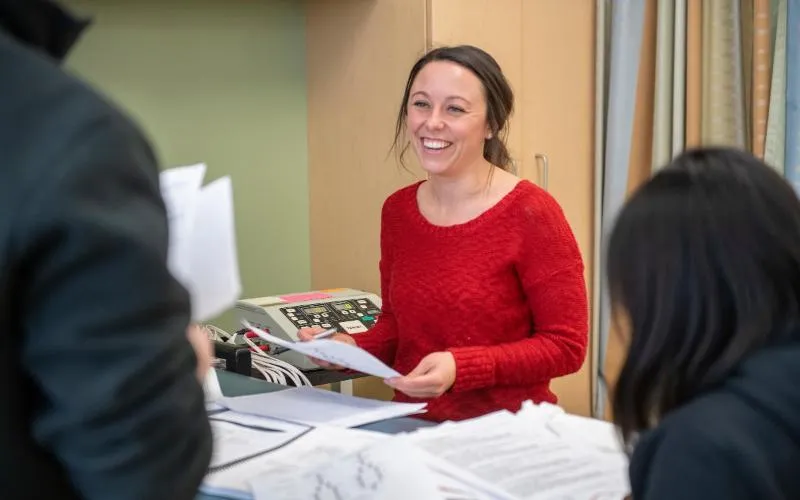 News story previous slide
News story next slide
---
Elgin Community College's Physical Therapist Assistant Program is accepting applications through Wednesday, June 15, for prospective students interested in physical therapist assistant (PTA) education. Graduates of the program earn an associate in applied science degree (AAS) in PTA and are eligible to take the required PTA state licensure examination. ECC's PTA program has been accredited by the Commission on Accreditation in Physical Therapy Education (CAPTE) since 2007.
"ECC's PTA program changed my life for the better," said Rebecca Stapleton, a program graduate. "I learned much more than how to be a PTA; I learned to trust myself and believe that I can do hard things. Now I am in a fulfilling career that I love. I am very grateful for the program and couldn't recommend it enough."
PTA's work in various clinical settings, including pediatrics, orthopedics, sports medicine, hospitals, and outpatient clinics. The job outlook for PTAs suggests consistent growth of job opportunities.
"The ECC PTA Program strives to be recognized as the preferred educational institution in the Northwest Chicago suburbs," said Barbara Ostrowska, physical therapist assistant program director. The PTA Program promotes professional behaviors, critical thinking skills, and competencies consistent with the physical therapy profession and essential for a career in physical therapy and the healthcare industry. We strive to create an environment for the students to develop excellent clinical reasoning skills and become lifelong learners in a nurturing and supportive atmosphere. If you love working with people and seeing them improve with your help, this is the profession for you."
ECC's PTA program consistently exceeds all CAPTE-required outcome measures. For the past three years, each student in the program passed the Illinois licensing exam and found success in seeking employment. In addition, employer surveys have indicated high satisfaction with ECC PTA graduates' skills and preparation.
To see the application requirements for the program, visit the Physical Therapy Assistant page on the ECC Website or contact Ostrowska at 837-214-7289.