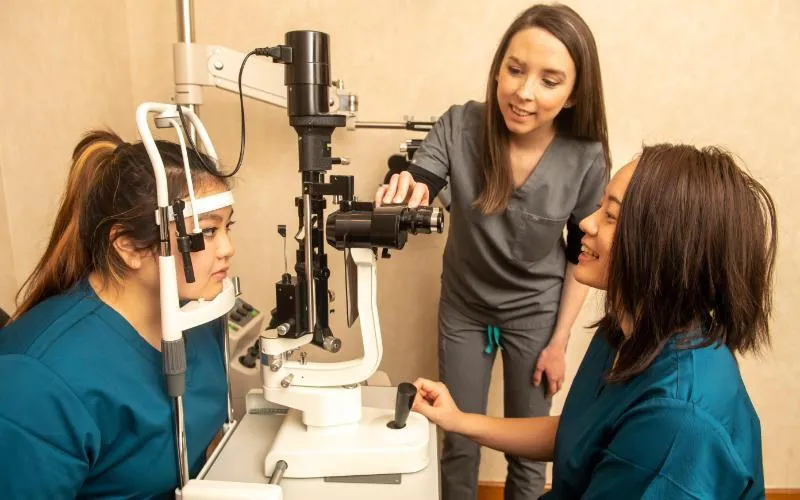 News story previous slide
News story next slide
---
Elgin Community College is launching two new programs in its health and sciences division in Fall 2022—Medical Assisting and Ophthalmic Technician. Local healthcare employers expressed a need to have more trained workers for both in-demand positions that are currently facing staffing shortages. Both areas are expected to see double-digit growth by 2030 according to the U.S. Department of Labor.
Medical Assisting Information Sessions
Thursday, April 7, 3-4 p.m.
Friday, May 6, 12-1 p.m.
Both sessions will be held virtually. Visit Medical Info Sessions to sign up.
Medical assistants perform the vital role of gathering and translating a patient's issues and need to a physician, performing many clinical duties such as taking and recording vital signs and drawing blood. Medical Assistants also ensure medical offices and clinics run smoothly by scheduling appointments and maintaining medical records. For full-time Medical Assisting students, this is a three-semester vocational certificate program. The program will have a dedicated classroom and a simulated clinic space with three exam rooms. It is designed to prepare students to be competitively recognized in the field by being able to take the Registered Medical Assistant exam (RMA) offered through the American Medical Technologist (AMT). After completing a Medical Assisting certificate, jobs that may be available include Medical Assistant, Medical Office Assistant, Specialty Medical Assistant, and more.
For more information on the Medical Assisting program, visit elgin.edu/medicalassisting.
Ophthalmic Technician Information Sessions
Monday, April 11, 3-4 p.m.
Wednesday, May 4, 4-5 p.m.
Both sessions will be held virtually. Visit Ophthalmic Technician Information Sessions to sign up for a session.
Ophthalmic Technicians assist Ophthalmologists in caring for patients' eyes and eyesight. They perform initial examinations, and specialized testing, and assist with surgical procedures and medical treatments of the eye. This is a two-year Associate of Applied Science (AAS) degree program for students. The program will have a dedicated classroom and lab space, including two exam lanes and two testing rooms. After completing a degree in the field, students can take the Certified Ophthalmic Technician (COT) exam through the Joint Commission on Allied Health Personnel in Ophthalmology (JCAHPO). Teaching from experts in the field and hands-on experience in area clinics will prepare students for an in-demand career as an Ophthalmic Technician.
For more information on the Ophthalmic Technician program, visit elgin.edu/eyetech.
To learn more about ECC's new health professions programs, contact Kelli Marlin, Medical Assisting Program Director, at 847-214-7309 or Shelby Stanley, Ophthalmic Technician Program Director, at 847-214-7342.