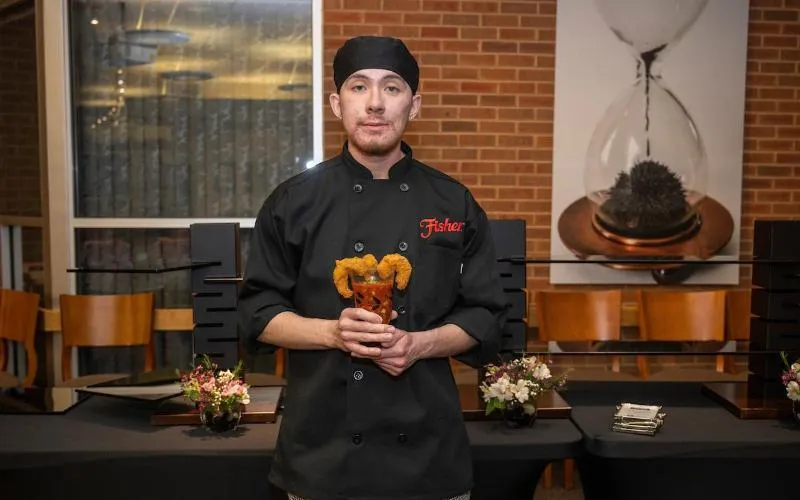 News story previous slide
News story next slide
---
Eight Elgin Community College culinary students put their skills and creativity to the test as they competed for scholarship prizes at the return of the annual Fisher Nuts Recipe Competition on Wednesday, April 13, at the college's Spartan Terrace Restaurant.
This is the eleventh year the college has partnered with Fisher Nuts, products of Elgin-based John B. Sanfilippo and Son, Inc., to offer students additional opportunities to succeed in their culinary careers.
"We are excited to bring back this culinary competition after having to suspend it for the past two years," said Kimberly Rother, culinary arts & hospitality instructional coordinator and a professor in the program. "ECC's culinary students love this event and being able to showcase their skills with innovative and creative dishes. The relationship between the Culinary Arts department and the Fisher Nuts team has been vital to student development. We greatly appreciate the challenge and generous scholarship opportunities this provides our students. "
Sixteen culinary and pastry arts students entered the contest and developed a recipe using products donated by Fisher Nuts. Recipes are then submitted to the company's research and development team, who selects the top eight entries for the competition. Students prepare their dishes for presentation to the judges during the in-person evening. The company invites guests to this private event, where each guest is granted one vote for their favorite dish of the evening.
The contest is open to all ECC culinary and pastry arts students. The finalists select a fellow student to serve as their sous chef for the evening.
Visit the ECC Facebook Page to view more photos from the competition.
Riley Bartlet from Carpentersville garnered the top recipe of the evening for his Sweet & Spicy Trail Mix. Other $1000 scholarship winners include Andrea Morales Cortes, Elgin, Coconut-Almond Flan; Anthony Catavu, West Dundee, Vegan Lasagna Roulade; and Bryan Guido, South Elgin, Cocktail de Camarones Empanizados.
Four additional students received $250 scholarships: Christopher Canaday, Malta, Mexican-Asian Fusion Salad with Chicken; Ely Greenfeld, Elgin, Chicken Taco with Cashew-Habanero Crema and Crushed Peanut Red Rice; Tanya Teeter, Carpentersville, sweet potato peanut squash bisque; Gabriela Vega, West Dundee, Honey Dijon Almond Chicken w/ Cashew Dipping Sauce.
"We are thrilled that we were able to resume our culinary competition with the students at ECC. The students showed great creativity with the use of our Fisher Nuts in their recipes! We appreciate all the hard work put forth by the students, and we look forward to this event every year. " - Jeffrey Sanfilippo-Chief Executive Officer, John B. Sanfilippo & Son, Inc.
For additional information about culinary events at ECC, call 847-214-7382 or visit elgin.edu/spartanterrace.