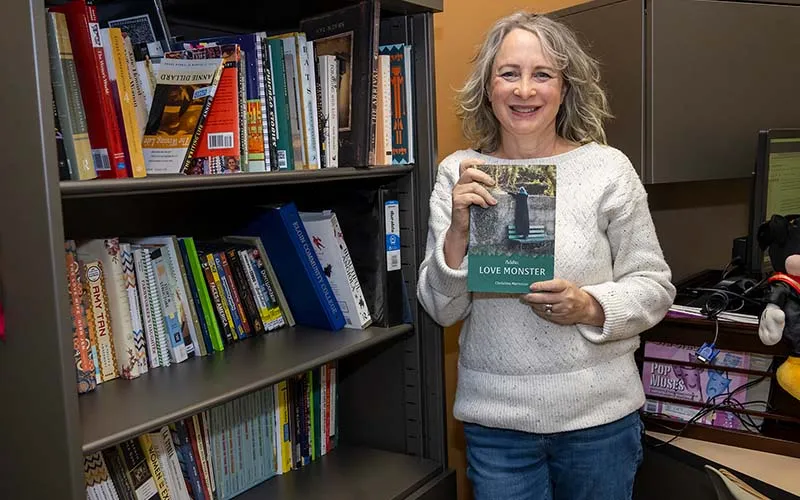 ---
Christina Marrocco, PhD, associate professor of English at Elgin Community College, is the 2022 winner of the Chicago Writers Association Book of the Year Award for Indie Fiction. Marrocco's novel, titled "Addio, Love Monster," tells a series of linked stories spanning generations on the 'regular' yet remarkable Singer Street of fictional midcentury Mulberry Park, just outside of Chicago.
Marrocco became a member of the Chicago Writers Association after hearing about it from a friend and fellow writer around the same time she submitted her novel to the contest. "When I received the email that I had won, I was at home, and I screamed—scared my dogs and my husband," said Marrocco. "The award and book have been a source of joy for me this year. To create, in any medium, and to have worked that piece until it really becomes itself fosters lots of good feelings."
"Addio, Love Monster" was a six-year project for Marrocco. "My process is a long one," she said. "I believe writing happens in revision, and I work my manuscripts for a long time, many times over. Then I will bring my work to trusted friends for their feedback." Before Marrocco began writing her current novel, she was working on another, which she anticipates will be a ten-year process before completion. "For me, it's the nature of the beast, but it's not about rushing."
Marrocco will read from her book at the Book Cellar, 4736 N Lincoln Ave. in Chicago, on January 21, 2023, at 7 pm, alongside other category winners as part of the awards ceremony. She will also be featured on an upcoming episode of the Chicago Writers Association podcast. Her book is available on Amazon in book and kindle format and at local booksellers.
The Chicago Writers Association is a creative community of Chicagoland writers established in 2003. Its purpose is to share information, experiences, and encouragement with other writers. For more information, visit ChicagoWrites.org.