Events Center
College facilities and grounds are for rent to businesses, corporations, not-for-profit organizations, and community groups when not required for ECC programs, services, and activities. College facilities cannot be scheduled for personal and private social events. ECC reserves the right to approve any requests, and insurance may be required for the facility's use application process. Each college facility may have unique pricing structures and policies.
Arts Center
Blizzard Theatre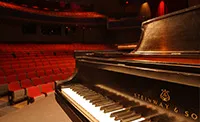 The Blizzard Theatre is a 662-seat proscenium-style theatre with comfortable seating, outstanding acoustics, and great sightlines that can accommodate groups of all sizes.
---
SecondSpace Theatre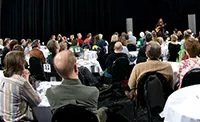 The SecondSpace Theatre is an intimate 168-seat "black box" theatre with numerous possibilities for set-up.
---
Other Venues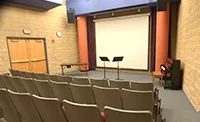 Dance studios, a recital hall, large rehearsal rooms, and numerous classrooms are available.
How to Rent Space(s) in the Arts Center
Check on the availability of Arts Center facilities - artsoperations@elgin.edu or 847-214-7140.
Discuss details of your event with the performing arts manager, who will estimate the charges for your event.
Reservations are held with an approved estimate of charges, a signed contract, and a deposit of 20 percent of the total estimated charges. (Outstanding balances are due 10 days before your event.)
Secure a "certificate of liability" insurance policy naming ECC as additionally insured.