University & Business Center
This building features comfortable, ultra-modern, professional training facilities. Facility discounts are given to not-for-profit organizations and for scheduling multiple events.
Skilled technicians are available on-site to support your event. All rooms can be equipped with the following:
LCD projectors with XGA resolution
Laptop projection, dual 35 mm slide projectors, overhead projector
Cordless & lavaliere microphones
PC with Internet hook-up, wireless Internet access
Teleconferencing downlink
Telephone and computer data lines
VCR, multi-CD player.
Seigle Auditorium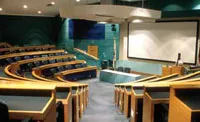 This 200-seat presentation auditorium is the ultimate conference experience. With its complementary media services controlled by a lectern touch-screen (10' x 20'), the Seigle Auditorium is the perfect setting for an opening session. Accommodations are available for the hearing impaired.
---
Training Rooms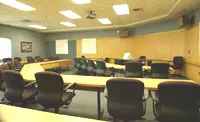 Six training rooms are available to seat 30 to 50 participants, designed with flexible seating options to accommodate a training experience. Rooms are furnished with high-quality tables, ergonomic chairs, adjustable lighting sources, an 8' x 8' projection screen, whiteboards, and flip charts with markers.
---
Meeting & Conference Rooms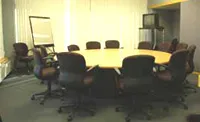 Three conference/meeting rooms allow participants to break into small groups for one-on-one sessions. Rooms seat from 8 to 15 participants. Rooms are furnished with high-quality tables and ergonomic chairs. Audio-visual equipment is portable in these rooms (6' x 6' projection screen). Conference rooms are discounted when rented in conjunction with the Seigle Auditorium and/or training room rental.
---
Hands-on Computer Labs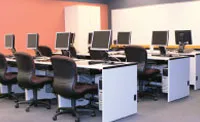 Two 12-seat, hands-on computer labs are available for participants to learn the latest computer skills. Microsoft Office Suite is loaded on each computer for your training needs. Our technicians can also load your privately owned software on our server for training. 6' x 6' projection screen available.
---
Atrium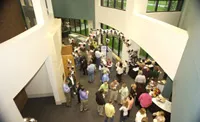 A beautiful two-story, cylindrical atrium is bathed in sunlight from a circular row of skylights. This area is perfect for networking in comfortable seating areas, relaxing between sessions, or hosting an elegant reception. The atrium area is also a great location to hold your next exhibit. Skirted tables are available to dress up your displays.
---
Dining Room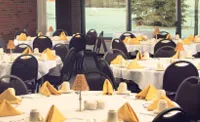 The 250-seat dining room offers a spectacular view overlooking Spartan Lake and is equipped with moveable privacy walls to allow for flexible and private dining. The dining room can be divided into four separate dining bays that can seat up to 48 people in each bay.