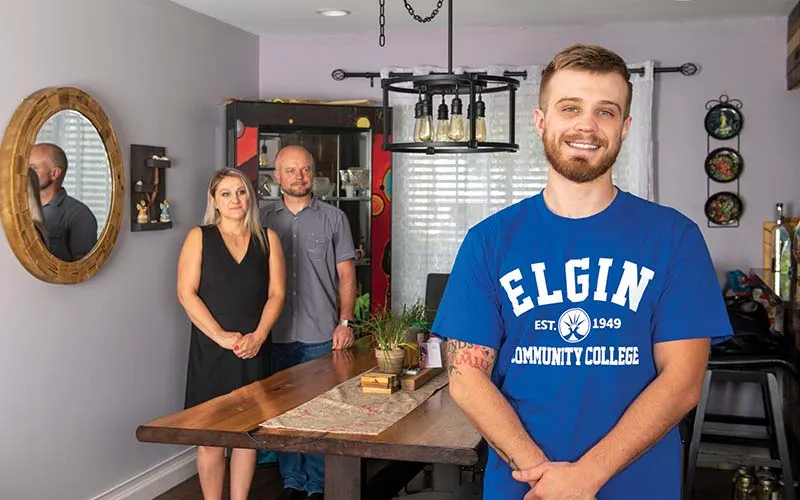 ---
When Michael Lacala decided to enroll at Elgin Community College, it came with support from his parents, but not without some difficulties along the way. When Lacala's parents were 18 years old, they immigrated to the United States in search of a better life for themselves. While his mother finished high school, his father did not.
During grade school, Lacala was also enrolled in English as a second language classes and attended Polish school weekly. From an early age, Lacala was challenged to excel in school while learning English and maintaining his Polish culture and traditions. His parents' focus on education encouraged him to go to college.
"They were always quite supportive and pushed me to go to school and get an education to find a good job," he said.
"I started taking some psychology courses in high school and found them quite interesting," said Lacala. "After researching, I thought I might want to work with forensic patients (people diagnosed with mental disorders and have a history of criminal offenses)." In addition to working nearly full time, Lacala discovered the logistics of college involved a lot of trial and error to stay organized, balance his studies, and stay on top of his financial needs.
After graduating from ECC, Lacala found full-time work in his field of interest as a security therapy aide at the Elgin Mental Health Center and decided to pursue a bachelor's degree in psychology at Elmhurst University. While gaining experience in the field and the classroom, he realized he wanted to take it one step further. "I felt like I wanted to do more and care for the whole person, so I decided to return to ECC for nursing," said Lacala, who graduated from the program in the spring of 2022.
Lacala plans to continue working at the Elgin Mental Health Center, now in the role of a nurse, another accomplishment his family celebrates. "They always mention how proud they are and tell other family and friends because it is a big deal for us," said Lacala. "I think it also makes them feel that everything they sacrificed and did for us was worth it."
To read more first-gen stories from this issue, visit the ECC IMPACT webpage.