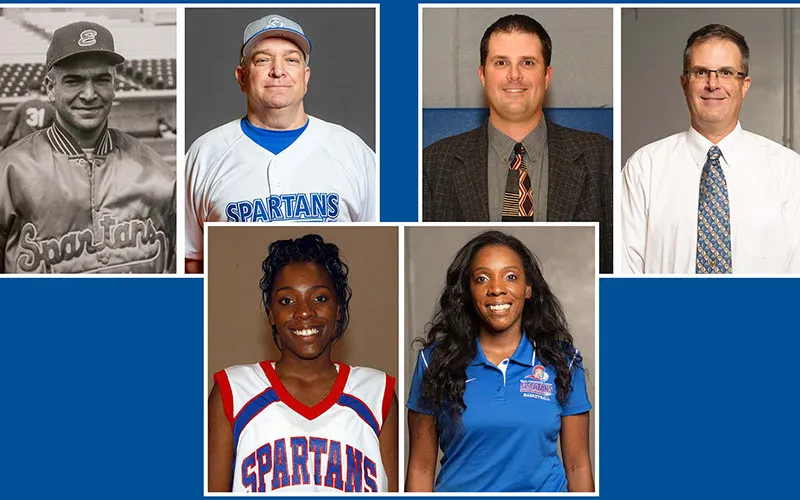 ---
Elgin Community College Athletics works to recruit, build, and engage student-athletes to win both in the classroom and on the court or field. The ECC athletic department supports ten sports, and behind each team is a coach who works to guide the players through the ups and downs of each season.
Three ECC head coaches began their college athletic careers on the team they lead: Bill Angelo, ECC athletic coordinator and head baseball coach; Reed Nosbisch, head men's basketball coach; and Eumeka Aguado, head women's basketball coach.
Angelo attended ECC and played on the baseball team from 1989-91. He served as the assistant coach for four years and is now in his 26th year at the helm. "While I was a student-athlete here, I really found myself and felt a deep connection to ECC. It was a place where I felt like I was at home," said Angelo.
"Coaching at ECC gives me a lot of pride, and I have passion for this program and the people that have come through here," he added. "I bleed Spartan Blue, and do not take what I do for granted! Every day I want to improve the people around me, and coaching here allows me to make a positive impact."
Nosbisch's time on ECC's court began in 1990. He was the assistant coach for two years, and in 2006 he returned as the head coach. Reed started coaching under Greg Herenda, who coached D1 teams for more than 15 years before replacing him as the head coach when Herenda left. "I saw it as an opportunity to not only come back to the place I graduated and played for but to learn from Greg," said Nosbisch.
Reed's experience as a former player has helped him better relate to and lead his team. "Coaching here means everything to me," he said. "I always tell the guys, 'I wore that same uniform, and it means something special.' Elgin has been a big part of my life. I will always be a Spartan."
Aguado returned to her roots in ECC women's basketball in 2008 as the assistant coach and stepped into the head coaching role two years ago. She is the most recent alum turned head coach, playing for the college from 2001-2003. After finishing her bachelor's degree, she returned to her hometown to start a career and began coaching.
In addition to the head coach alums, many assistant coaches are also former ECC players: Sal Acevedo (men's soccer), Dither Rangel (tennis), Lauren Gabler (women's basketball), Tarnall Davis and Mario Garrett (men's basketball), Amber Seyller (softball), and Ralph Riske and Steven de la Torriente (baseball).
Visit elginspartans.com for more information on ECC athletics.